I'm uploading these to have something for comparison later, as I'm gonna hold on to that optimism that I will transform!
Anyway, I took a side and front view in the sunny garden (lovely day in Miami). Gosh, it's hard to take pics in shorts and sleeveless top. So dorky. But here we go. Me at 268.6.
Front: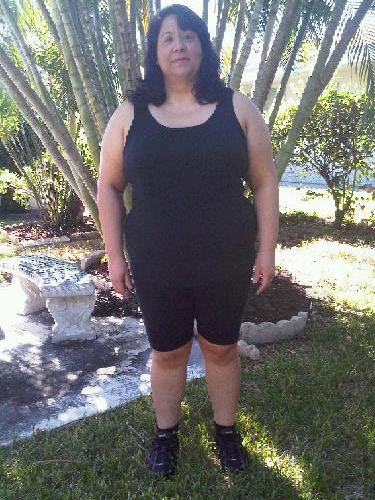 Side:
As you can see, I'm an appley gal, lots of midsection fat--especially that protruding belly competing with my boobies (which are flattened by that sports bra, ick. I have some waist noticeable in the front view (Pilates helps with that). But my belly is a huge, huge thing. Less huge than at 299, granted, but still. And my upper arms could well be holiday hams...
I am happy to see my butt lifted with Pilates. It's a good two inches up there, not laying on my upper thighs. It's so much firmer (ditto thighs. And under all that belly fat, I can feel hard muscle. Ditto biceps. :) My butt, btw, used to be this flat square thing hanging down. Now, I have some curve and uplift. Yay, Pilates.
I plan by my fiftieth birthday, February 20, to have progress pics that show real, real progress. Yes, I do.
Yes, I will.
Note: For the larger gals who are just embarking on working out and having a trying time finding workout wear, I used to get mine at Junonia (when I was more like 300 lbs), but I found the tops at Old Navy (t-shirts and other workout type usable ones, like the sleeveless tanks and camisoles I use for Pilates) are way, way cheaper. I get my workout pants (bootcut, shorts, capris) at Danskin Plus (very good quality, I can wear the pants with nice tops). In this pic, I'm wearing a tank I got a Old Navy that stays put when I'm in weird positions in Pilates. The shorts are from Champion Plus. The wide-size aerobics shoes (not walking ones, those I get from Brooks, great for overpronators) are from Ryka. Very flexible for stuff like Kukuwa/salsa cardio. My microfiber undies (good for when you move a lot) are from Avenue. (But I use Junonia's quikwik briefs mostly for long sesions when I sweat a lot, cause they're very comfy and sweat-friendly. I use Goddess and Glamorise sports bras, cause they carry larger sizes.